BEST LATIN JAZZ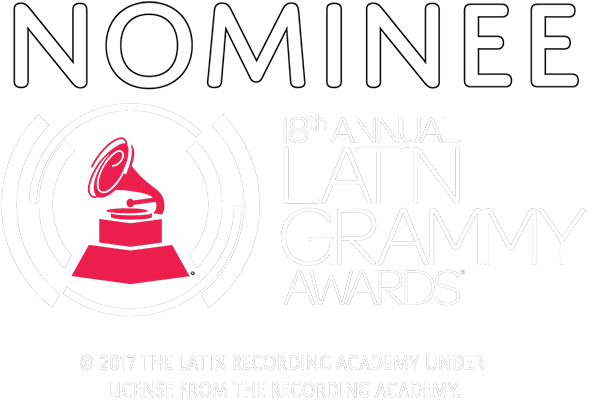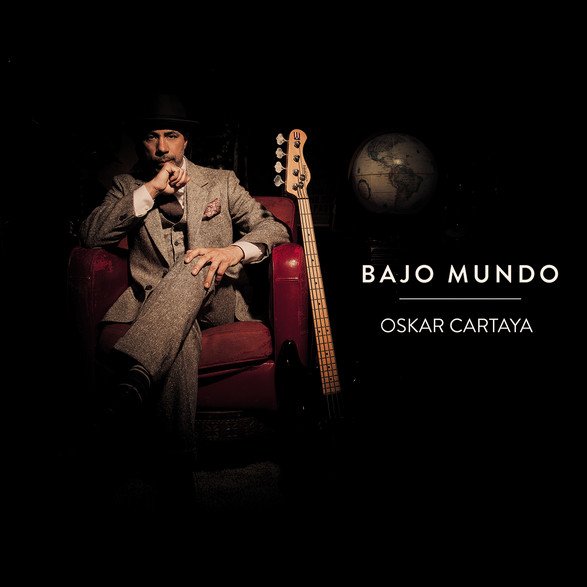 LATIN GRAMMY NOMINATED – BEST LATIN JAZZ!
Get your copy now for
$12.99
!
TRACK LISTING:
1. Truky Paco
2. Gafieira
3. Tum Tum (Featuring Marcus Miller)
4. Mateo'S Lullaby
5. Bomballenato (Dedicated And Featuring Justo Almario)
6. Los Del Sur
7. Tumbao Cachao (Dedicated To Israel Lopez "Cachao")
8. Flamencocho
9. A La 70'S (Sc Style) (Dedicated And Featuring Stanley Clarke)
10. Almas Gemelas
11. Mpc (Machito, Puente, Chico)
12. Para Ti Latino (V 2.0)
13. Get Up (Muevete)
***The first 50 copies will be signed by Oskar***
Download the first single
"GAFIEIRA" is the first single from the upcoming CD "BAJO MUNDO". Take pleasure in the mixture of cultures, life and music that speaks directly to the soul but challenges the intellect.
Please enjoy the download and feel free to share the love and good vibe with others!
Inspirations and Early MI Memories
"Coast to Coast" – Live at the Aguilar Artist Loft
PRESS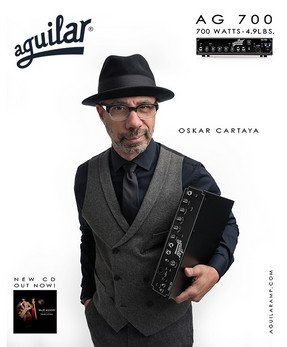 Aguilar Amplification AG 700 Ad
Oskar Cartaya, during the course of a full career playing bass, composing, arranging and acting as musical director for an amazing array of artists, Oskar has soaked up the influences of his homes in Puerto Rico, New York and Los Angeles to create his very unique style.
A long prolific career working with the likes of Spyro Gyra, Herb Albert, Jennifer Lopez, Celia Cruz, Rubén Blades, Tito Puente, Robbie Robertson, Willie Colon, Dave Valentin and more has given a solid reputation in the music industry.
Some of Oskar's credits include the production of "Passion Dance" by Herb Alpert (Almo Records) and "Plenarriqueña" for Jennifer Lopez, a live concert on DVD (Sony Music). Touring with a plethora of artists including Steve Winwood, Spyro Gyra and the late Tito Puente.
Add in to the mix a stint in the house band for TV's "ShowTime at The Apollo", The ESPY'S, Latin Grammy, Guys Choice Awards composing and arranging for projects such as Jodie Foster's movie Contact, Producing the soundtrack for the movie "Wedding Bell Blues" and playing on Grammy® Winning albums for Arturo Sandoval, Willie Colon and Spyro Gyra.
When playing his own music live he is surrounded by the Enclave which Oskar describes as "a musical play on words, the voice of a culture from within the boundaries of America, and a musical expression played en clavé. Our sound is a gumbo of jazz and funk, Afro-Caribbean percussion and urban street soul attitude."
Other recent projects include playing on albums with Tito Nieves, Pete Escovedo, Andrae Crouch, Juan Gabriel, Sheila E. and the fun collaboration between Puerto Rican compadrés – Rumbantela, and playing live behind such varied artists as Justin Timberlake, Wayne Brady, Playing For Change, Gilberto Santa Rosa, All 4 One, Wynona Judd, Jonathan Butler, just to name a few.